Before arriving in Vietnam country, you may be curious how is Vietnam culinary, what are the best dishes and which ones are the must-try. You might be surprised by various dishes in Vietnam and know that the country stretches in north to south, has long coast and tropical climate. Vietnam is graced with varieties of plants so there are redundancy of fruits and vegetables. The main ingredients in many dishes are rice, rice flour, vegetables and fish sauce. Cooking methods are simple and easy to learn, mostly grilling, frying, stir frying, stewing, steaming, boiling, roasted. The gastronomy is united in diversity, the cuisine varies according to the region, and influenced by neighbor countries.
Food in the centre is spicier and quite salty. In the north, it is relatively bland, original and authentic. In the south, palates are hot spices proliferate, have considerable sugar. Each area has its own local specialties.
Many dishes are specialty in Vietnam you should not miss when you have chance to come and travel along the S-shape. Palate are peculiarity in each region, places in Vietnam. You will have to discover it yourself and decide which one you like the most!
1. Pho ("Phở" /fɜː/)
Pho is a Vietnamese soup dish popular throughout Vietnam. Vietnamese people brought Pho to many countries. Nowadays, this quintessential Vietnamese dish appeared in many restaurants around the world.
Pho eateries are found every street corner in Hanoi and Saigon but actually open early in the morning to serve breakfast for local people before their working hours. Style of "Pho" in two largest cities are different by noodle width, broth, choice of herbs and sauce. Moreover, Pho noodles varies in other provinces. Originally from the north, if you wish to taste authentic Pho, let's wait until you arrive Hanoi capital and we will recommend you the best Pho restaurants.
2. Bun cha
"Bun cha" is a very popular dish of Hanoian for lunch so it is usually served at noon time in all streets in central Hanoi. This salver includes grilled pork, noodle, herbs and vegetables, and special sauce. It must be dipped in broth as well the sauce being made by fish sauce, vinegar (or lime juice), sugar, and boiled water, added by minced garlic plus chili. You can order also "nem" to make a completely full dish.
This specialty originate in Hanoi and could say the best Bun cha to be in the capital. It is very different to the dish of vermicelli and grilled skewered pork in other provinces. Grilled pork of Bun cha must be well scented and annealed before making slices.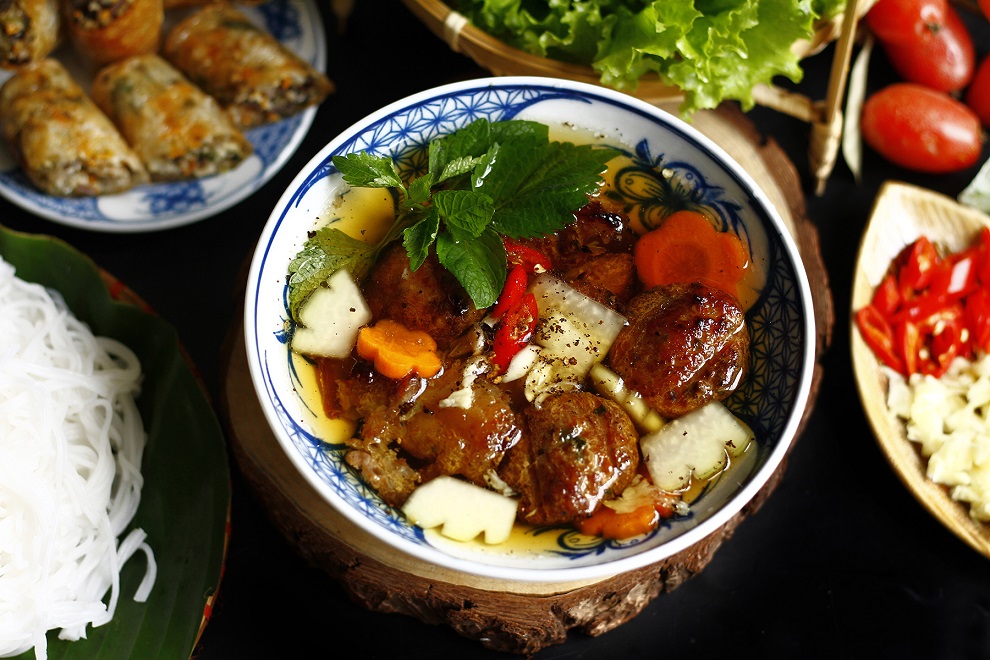 3. Fresh spring roll
As you may have known, spring rolls are a rolled dish, popular in China, Southeast Asian and many countries, but they varies depending on region and culture.
Spring rolls have their own versions of name in the northern, central, southern Vietnam. Though they are all deep fried and wrapped by rice paper, there are many kinds of rice paper as well as the ingredients are not the same. "Nem" is general name about fried roll in Hanoi and northern Vietnam but actually there are three kinds of Nem.
Fresh spring roll could be called Summer roll or is known as "Goi cuon". It is much different to normal spring roll because is not fried, wrapped by fresh rice paper thinner. It only contains boiled pork, (perhaps) steamed prawn, salad vegetable, cucumber, carrot, maybe few herbs. Foreign visitors loved this plate very much because it holds mainly vegetables and all fresh ingredients.
Both deep fried or fresh spring roll are dipped in sweet-sour sauce. No matter how, the sauce might be changed by the chef to upgrade the flavor of the meal. Fresh spring roll is distinct kind of roll originated in southern Vietnam so you must taste it in our country.
4. Xoi
"Xoi" is a popular dish for breakfast in Vietnam like "Pho" and can also be a meal for lunch or dinner. There are many kind of "Xoi" in Vietnam, it may be simply cooked by glutinous rice, add one of kinds grain to cook, or make colour and/or taste by leaves, gac seeds… Some ethnic groups use different kinds of plants to décor colourful sticky rice.
Favourite sticky rice must include special sticky rice and accompany one or some foods. There are many options of foods to make numerous palate such as pâté, char siu, braised meat, chicken, eggs, beef roll and more. This palate must is fragrant, glutinous, quality and hot.
5. Banh goi
"Banh" means cake and "goi" means pillow. Looking like the shape of semicircle pillow, this Vietnamese dish is name "Banh goi". It is a common street food in Vietnam, popular in the Old quarter streets and appears in alley corners. Vietnamese people enjoy better this hot, crispy palate with yellow pastry cover in the winter. Local people do not have it for meal but as a snack.
The pillow cake case wraps the main ingredients as minced pork, chopped mushroom, vermicelli, bolded egg, sausages. Immediately after wrapping into a rolled piece, it is fried deeply then serve hot with vegetables, herbs and sweet-sour sauce.
The review of tourists are: simple but tasty Vietnamese food.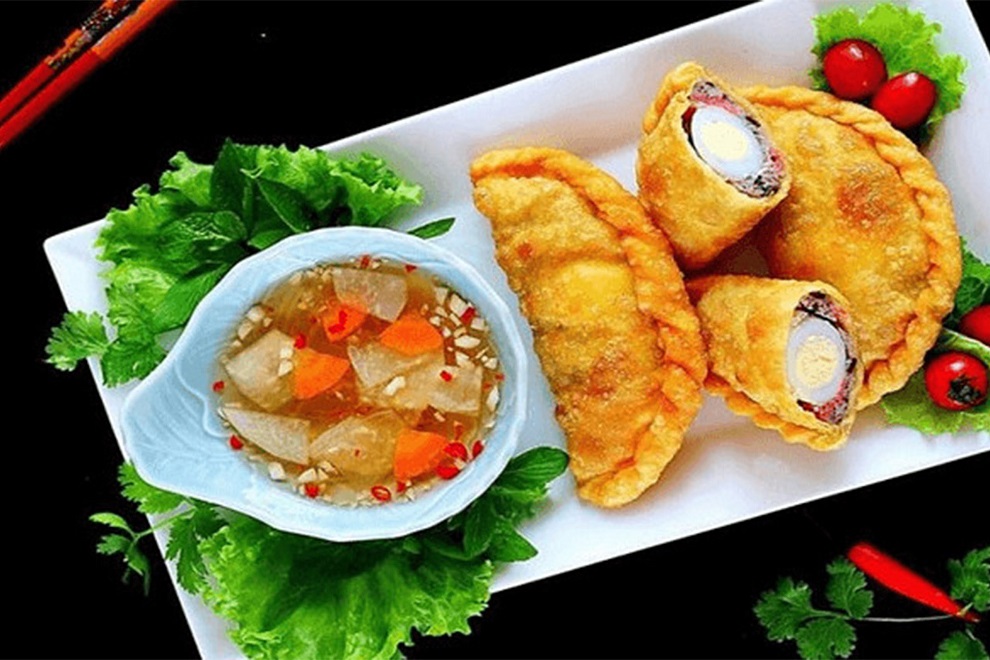 6. Bun bo Hue
Like many Vietnamese dishes, "Bun bo Hue" is a favorite meal available many places in the country. The dish has a specified beginning in Hue, a former royal city in central Vietnam. The local people in Hue only calls it "bun bo" (noodle with beef) while in other provinces it is named to denote its origin. Residents learn cooking Bun bo Hue and open restaurants for business, migrating Hue people also have their business. However, we love having it in restaurants by Hue persons for authentic favorite.
7. White Rose Dumpling in Hoi An
White Rose Dumpling is a special peculiar in Hoi An, not found anywhere else and is made with water from a well in Hoi An ancient town. It is great to enjoy the dish in a well-known restaurant in Hoi An. It is popularly known as "Banh vac" by local people. The name White Rose started in the 1990s by French tourists after they described the appearance of this dish.
The outer-cover of each dumpling looks like a white flower and will turn into a milky color after being steamed. The main ingredients of the dish are rice flour, pork, shrimp, cat mushroom mixed with pepper, garlic, onion. The dough is made by mixing rice flour with water and pounding the mixture in mortar. Take the right amount of dough, roll it thinly, then put the filling on top, gently press the filling to stick to the crust. The finished dish is topped with fried shallots and served with sweetened fish sauce.
With a street food tour in Hoi An town, you have chance to exercise making "White rose dumpling" by your hands.
8. Nom:
"Nom" in the north or "Goi" in the south is appetizer at home or in restaurants in Vietnam. The dish might be named salad in hotels, restaurants but they is not the same of recipes. In Vietnam, it is a mixture of vegetables, herbs, meat, fish, shrimp, spices, garlic, chili,…
"Nom" made by Vietnam's banana flower or by root lotus has been a top appetizer for tourists. You would be able to have some types of Vietnamese salad in the country. If you have a opportunity to wander around for street food, don't forget to order real, true appetizer in the way Vietnamese residents often have.
9. Snails
Only with a long coast, Vietnam has Mekong delta and Red River delta, also many rivers and lakes, paddy fields, Vietnamese are blessed many type of snails. Snail was a type of rustic food many years ago so it is still used at home. Nowadays, street food is a must of municipal residents so even simple foods as snails become a beloved plates.
In the north, particularly Hanoi, snails are often steamed (actually, not boiled) with ginger leaves/lime leaves at home. In restaurants, there are also spring roll with snails, snail pies, broth of noodle, or hotpot. In Saigon and south Vietnam, snails are cooked by more methods of regional style using coconut, tamarind fruit, chili and dipping sauce.
Being street food lover, you need to be patient to dig into tiny hard shells, taking out the chewy pieces, dipping into the authentic sauce and enjoy several plates so you really have a nice memorable of Vietnam gastronomy. If you have more than 10 days for a journey to Vietnam, you have good time to sample Vietnam cuisine in south to north the country, both traditional or modern culinary.
Let's ask more at Sky Asia Travel