Ha Long tourism has always been an attractive topic for both domestic and foreign tourists. Ha Long contains a lot of beautiful places that you may not have the opportunity to visit and explore. So with this article, I will suggest to you the top 5 places to explore in the bay that you should not miss when visiting and together with a few travel experiences for you. So let's get started!
Ha Long Bay Tourism
Possessing many rocky beaches and mysterious caves in the limestone mountains have made this place a top tourist attraction. 165km east of Hanoi, Ha Long has many suitable routes and means of transportation for you to choose from: when traveling, including Moving from Hanoi to Ha Long by car or motorbike on NH5B and entering the city via NH18 in 2 hours and 30 minutes. Thus, if you feel no longer interested in traveling by car often, traveling by train to Ha Long is also a suitable form for you. However, this form usually takes more time and you also need to equip yourself with more careful furniture. Those who suffer from motion sickness should peculiarly prepare themselves with items to avoid it. Below are the top 5 Ha Long Bay tourist destinations I have researched to bring you your best discovery experience.
Sung Sot cave
In addition to the small islands that you can check in or take pictures of, there are countless mysterious but equally fascinating caves to explore. Prominent among those caves is Sung Sot cave. You can choose to rent a boat or join a Ha Long cruise to experience the feeling of sleeping overnight on the journey.
Tips: Usually, Ha Long cruises include a schedule to visit Titop Island and caves, so when booking a tour, you should carefully check the program.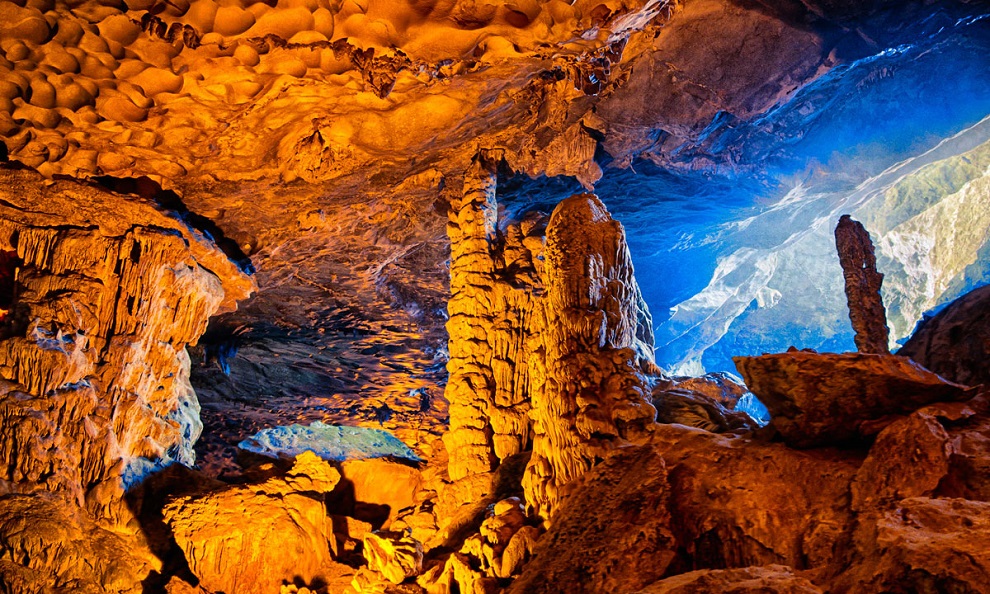 Dau Go cave
Dubbed as one of the most beautiful limestone caves in Ha Long Bay, the inside of the cave exudes wild and tranquil beauty with towering stone columns and stalactites, followed by rich and diverse vegetation, making the now beautiful cave even more special. To be able to come and visit the Dau Go cave, you first need to book a boat at Tuan Chau ferry for directly visiting or you can register to visit with tickets to stop by the bay. The guide will help you come to the place as well as you can take a Ha Long cruise to travel to the bay with the tour.
The ideal time to explore the tour is mainly when the weather is dry, warm, and suitable for the journey of discovery. If you don't mind traveling when Ha Long is the tourist season, visit from March to May. Clothes that tend to be light and comfortable are recommended so that you can combine them with sports shoes for the best experience on complex terrains.
Thien Cung Cave
Located on Dau Go Island and quite close to Dau Go Cave, Thien Cung Cave is known as a painting that recreates the scene of congratulating a wedding in the cave with the image of a flying dragon and a dancing phoenix. Deep inside to explore, you will surely be amazed by the beauty of stalactites like magical curtains. The center of the cave with the giant four pillars makes a picturesque fairyland view to discover. The route to move is not too difficult to travel. Starting from the city center, either you go along Highway 18 to Tuan Chau Island or book Tuan Chau train tickets on route 1 to get to the cave. Comfortable clothing with sports shoes is also a must-see factor when visiting because it will help you effortlessly move with the terrain inside the cave. The lighting in the cave is usually not good, so if you want to take great photos of yourself, go to the center of the cave, which is decorated and illuminated with a lot of lights.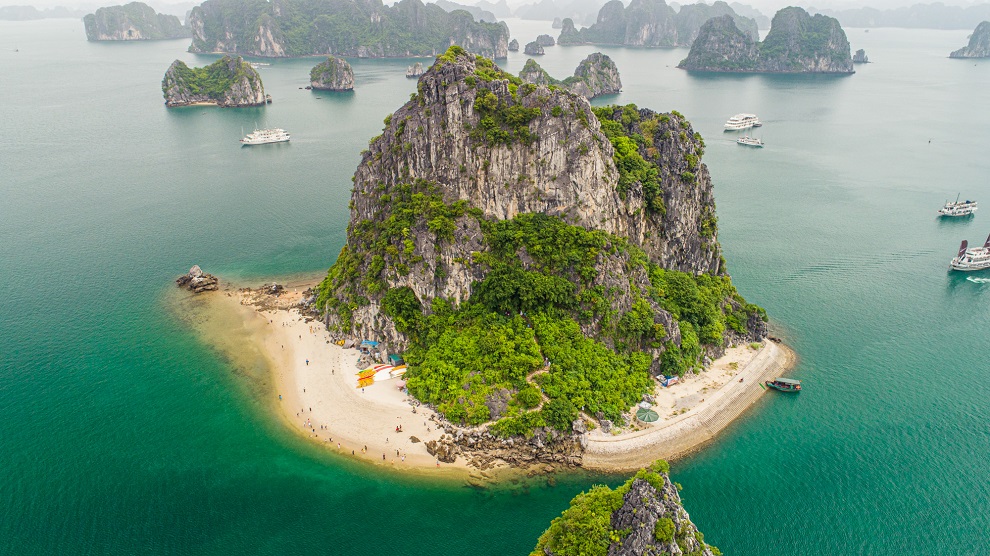 Ba Trai Dao island
About 22km from Bai Chay port and 1 hour by canoe, the beach at Ba Trai Dao island will leave you in awe. If a conventional train isn't your style, an overnight cruise is not a bad idea to help you both experience the night and also experience the feeling of being on the train. Although the experience is entertaining, there are some notes for you when visiting this place.
Specifically:
You should only bathe for 2-3 hours because the high tide will engulf the whole sandy beach, so you need to research carefully.
Business here is limited, so it seems essential that you prepare food and drinks.
If you are considering staying overnight, prepare yourself a warm shirt because it's usually quite cold there during nighttime.
The sunrise view on the island will be extraordinary so you shouldn't miss it.
Tips: Foreign tourists often choose the Cat Ba cruise service, you can refer to it, but you should check and book early to avoid out-of-stock during the peak season.
Drum Cave and Trinh Nu Cave
Located on Bo Hon island, 15km from Bai Chay and 12km from the city center, the distance between the two caves is 700m, making it easy for tourists to move from one to the next. The sad legend of the two caves makes us feel regret between the love story of a loyal girl and a faithful boy. Followed by beautiful scenery, you cannot but feel a magically breath-taking view bloom upon your eyes. To comfortably explore the caves, below are some tips I will suggest you take notes:
Firstly, about the time to visit, you can probably visit this place along with the destinations I have recommended above. During that time, the weather is usually pleasant and comfortable
Secondly, in terms of clothing, you are advised to wear suitable clothes for moving, climbing, especially sports shoes to move. In addition, you should bring a camera for saving beautiful photos, and you should also equip yourself with some essentials suitable for the trip.